Insightful Singer-Songwriter Dulcie Taylor Extends Rich Sound With 'Better Part of Me' (ALBUM REVIEW)


March 14, 2018
by Jim Hynes
Dulcie Taylor has been making increasingly better records now for 18 years. This, her seventh, Better Part of Me, may be her best yet. Working with her long-time collaborator George Nauful, a multi-instrumentalist and terrific guitarist, along with 15 musicians across select tracks, including cellos and string orchestration factoring into the mix. Taylor, as per usual, plays dulcimer in addition to her acoustic guitar. This extends the rich sound in her recent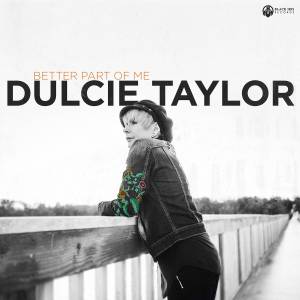 work for the veteran folk singer. It's produced by Nauful, Taylor, and Damon Castillo who also plays several instruments. Remarkably, only Nauful and two others remain from her highly acclaimed 2015 Wind Over Stone which featured a similar number of backing musicians.
Taylor shares her insights on relationships, both past and present while also taking time to comment on the environment.  The single, "Halfway to Jesus," addresses that topic directly. Taylor says, "Our planet is suffering through ravaging climate change that has brought on catastrophic storms, commonly called '1000 year storms,' indicating how rare they should be.  We must take action to save our planet."
God Did Me a Favor," written by Taylor is statement of love with a memorable chorus – "You put the song in my soul/You put the beat in my heart." Other relationship songs are represented in Taylor's three co-writes with Nauful, including "Hearts Have to Break" where they duet almost through the whole song. "I Do" and "Long Gone" are the other two.   Nauful also wrote the title track, which Taylor describes as "a dreamy 'noir-ish' song about trying to reach that place where the love you share with your lover is all you want it to be." Her noir comment is appropriate; the music here is more ethereal than on any other track. "Dove Crying in My Window" is an especially compelling, introspective song bolstered by acoustic piano and two cellos. In fact, the latter part of the album deviates from her usual guitar-driven style, enhancing the overall listen.
One of the striking aspects of the album are the guitar leads, apparent immediately in the slide for the opener, "Used to Know It All." Dominic Castillo plays masterful slide again on the closer, the title track.  Listen though, to Nauful, who takes most of the electric guitar solos, many of which are adventurous and unpredictable. His syncopated notes accent the anguish in "Watch Me Hurt' whereas his elongated notes resonate in "Moon Is Cold," about one with a deceiving nature and smart mind. That song was co-written with previous collaborators Tony Recupido and George Williams. "Used to Know It All" is a co-write with Williams.
Taylor has a warm pleasing voice, making her insightful songs eminently accessible and listenable. If you're new to Taylor, this is a wonderful place to start.  If you're familiar with her catalog, you'll likely agree that this is one of her best.