Looking Into Dulcie Taylor's "Mirrors and Windows"
By Katy Hershberger
Special to washingtonpost.com/MP3
Wednesday, June 23, 2004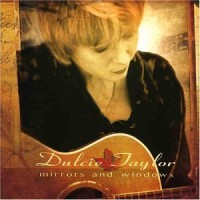 Dulcie Taylor is like everyone's best friend — sweet, understanding and honest. On her second album, "Mirrors and Windows," Taylor simplifies deep feelings and delivers them with an honest voice, always staying direct and unpretentious.
She says that her songs are true stories about real people, so it's no surprise that her lyrics are so accessible and down-to-earth. The singer-songwriter seems to know both her subjects and her listeners intimately — a benefit of growing up in a small town (now a McLean resident, Taylor spent her childhood in South Carolina). "You're in people's faces a lot," she says on her Web site. "That makes you look at the human situation very closely."
The multi-instrumentalist's live show is as friendly as her album. During a recent performance at the Birchmere, she was so relaxed and conversational that she seemed to be playing to 300 of her closest friends. Her soothing, powerful voice stood out, especially during an a cappella portion of "Love Like Yours and Mine."
Taylor's voice also stood out in 2002 when her first album, "Diamonds and Glass," won a Wammie for Best Contemporary Folk Recording. "Mirrors and Windows" is more country than folk, but Taylor says she "explored different musical styles" on this record, including soul, funk, bluegrass and "old-time rock-and-roll."
She shows off her country sensibilities in the pop-infused "Out of My Blood" and "Ice Melts," her favorite song on the album. She also explores her lyrical ability in "Woman I Used to Be," an introspective and melancholic ballad, and "Miracle," a story of disenchantment with a compromising life.
Creative since age 10 (she changed the words to pop songs), Taylor also writes poetry and prose. "With poetry you can pretty much do what you want to do, and with a song you're restricted by the time," she says. "It has to be distilled down and it has to have that chorus that comes back. And poetry is a lot more free-form."
Taylor's lyrics "come back" to the listener on a personal level, proving that she writes from the heart, for the heart.