Folkwax, 8/21/02
A Thinking Person's Album With a Cool Feel
by Jason Wesley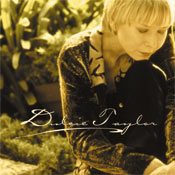 This album sounds like girls' night at the coffeehouse; some nice jazzy Country Folk and some lyrics examining relationships from a woman's perspective. Very few artists are able to put together an album of their own songs and styles without having to at least lean towards the big buildings where music is sold. It doesn't sound like Dulcie Taylor has catered to the business side, even though she's made an album with that sort of potential. I should think that this album will make it to radio, even though it is better than that. The whole album has a nice jazzy feel behind it. Lyrically it is an examination of relationships from various angles.
The opener and title cut just sounds like it should be on the radio, it has all the stuff: a woman's point of view on relationships, a nice melodic chorus and a nicely produced sound. "Easy For You" shines because of the good picking. Taylor's voice is strong and the arrangement is interesting.
The third cut is a great song that I will expect to hear others add to their repertoires as Taylor looks at her parents' twenty-year marriage, their subsequent divorce and the eventually understanding she acquired with age. "Happy endings aren't always in the cards. Now that I'm grown, I understanding that day-to-day can be hard."
" It Ain't Love" is a girlfriend giving advice to a friend who is blind to how she is being treated by a cheating man; there is some nice guitar here, Taylor herself is playing the dulcimer. With a fat hook like this, here is another one with commercial potential even though it has some great lines and, again, a kind of cool Country Jazz feeling.
Instrumentally I liked "Spirit of Love" the best with some good acoustics and nice bass added by Matt Bissonette. I would have like to have heard him on other cuts. "You and Me" looks at a relationship that has ended up in therapy. "If we don't get it, if we don't learn to hold on, I'm gonna have to learn to live with a hole in my heart. This can't be you and me." Nice introspective stuff here. "Sometimes Love Ain't Enough" looks back at a relationship that didn't make it. "Full of hopes, full of dreams we were sure love was all we'd need."
Taylor's song about the death of her mother, "Goodnight 'till Then," is masterful. She deals with the circumstances of the experience and offers up her mournful goodbye. As personal as this song is, it is another that other singers should consider.
On "I Don't Know Anymore" Taylor takes more rocking acoustic Blues bent with Tony Recupido playing some nice lead guitar, as he does throughout he album. I would definitely like to hear more of this side of Taylor, maybe even a bit more electric And I did on the closing cut, "Never Enough," about a woman who can never be satisfied with her life, who "with the world at her feet she still feels incomplete." "She is like an angel when a friend needs a hand but when people try and help her, nobody can."
This is a good album, George Nauful did a great job of producing a sound that really works and, almost in a concept kind of way, builds to a nice ending. Taylor builds good arrangements around thoughtful lyrics. This is a thinking person's album that makes us look at our own relationships through Dulcie Taylor's words, and it grew on me quickly.