Rockzilla
Dulcie Taylor – Diamond & Glass
Paras/Black Iris Records BI 1181
God help the lonely
What do they do?
Those who have no one
To help them in the dark
-Dulcie Taylor, "I Don't Know Anymore"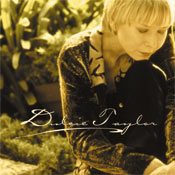 This is a good lonely in the dark cd. The singing and the songwriting both are strong. Whether the singer truly represents the person Dulcie Taylor, I can't know
, but I do know a unifying perspective links the songs on this cd and the result, while not exactly a story, seems to be a series of reactions to certain hard events–the death of a mother, the death of a marriage. I'm willing to bet that a lot of you who read this will recognize the sequence of emotions.
It's interesting to me when an artist–and make no mistake about it, Dulcie Taylor is an artist, a serious writer of plain words from a confused heart–ends a series of songs with one that calls into question everything I just listened to. But that's how I hear the end of Diamond and Glass, which is a series of songs concerning the fragility of love between two humans, that old imperfect love that's the best we have.
Let's get the inevitable comparison out of the way: her own label compares her to Joni Mitchell. Mainly it's the dulcimer. You play the dulcimer and you're a woman singer with a certain kind of voice, people will think of Joni Mitchell. If you record the series of songs that make up Diamond and Glass, mainly impressions from a bad spell in a loving life, you're going to make me think of Blue, Mitchell's minor-key masterpiece. The sparseness of the musical backing, not to be confused with mindless folkie guitar strumming, also recalls Blue.
She also keeps her words sparse. Dulcie is a poet, but that doesn't mean the lyrics are going to look like poetry on the printed page, let alone in Rockzilla format on your screen or mine. It's the smartness of her singing, her repetition, the way she adds a word to a line the next time it comes around, because every word counts–because every time we say a word it counts, whether we want it to.
The opening song, "Diamond and Glass," sets the tone for all that follows:
The men that I once loved came to see me in my dreams
Of one I asked forgiveness
And one asked it of me
The words we said stayed with me
Long after I awoke
In a world that's never certain
here's two sure things I know
I know love can cut like a diamond
I know love can shatter like glass
Love can cut like a diamond
Love can shatter like glass
-Diamond and Glass
Like most of us when we're philosophizing, Taylor concentrates more on the fragility of love, a fragility best represented by a wedding ring from her mother's failed marriage:
I wear a ring Daddy gave Mama
As a promise to love her true
When she was younger, she wondered why a married couple couldn't talk things out, a question the singer revisits in her own life. By incorporating the same musical move in "I Have a Ring" as "You and Me," Taylor pairs the failure of that marriage to the failure of the singer's. Same failure, modern clothes; the talking cure.
This can't be you and me
Paying a third party
To help us put our hearts back together again
This can't be you and me
Hoping a total stranger
Can help us get across our ocean of pain
Graham Green once had a character say that death seemed much too important to happen to him. You can feel about divorce much the same way. This song explains why the singer can now understand her parent's marriage.
Taylor recruited jazz musicians as well as folkies to back her. Drummer Karma Auger and bassist Dan Lutz comes from Brian Auger's Oblivion Express. These two deserve particular credit for understated playing that nonetheless keeps the music rhythmically interesting. Fusion guitar player Michael Landau plays lead guitar on most cuts. Smooth jazz pianist Brian Culbertson plays on some songs and equally smooth Stephen Cole plays soprano sax on "Corazon Frio"–a tune and arrangement reminiscent of Al Stewart in his heyday. The interplay of Culbertson's piano and Joe Golub's electric guitar at the end of "Sometimes Love Ain't Enough" is the instrumental high point of the cd. Various other musicians contribute to Diamond and Glass, giving it a jazz-influenced pop sound.
So what did I mean about the last song in the series making me start back to the beginning? After all these first-person, maybe-confessional songs comes "Never Enough," a more sympathetic version of "!9th Nervous Breakdown" or maybe Noel Coward's "Poor Little Rich Girl," a song about a crazy dame, miserable despite her husband and her lover and her "silk possessions."
Where's it going to lead the girl
How's it going to end
She's running running to trouble
It's always right around the bend
Never enough, never enough
Hold her and cry
Tell her you'd lay down and die for her
It's never enough
Never enough
Dulcie, is that you? (Not the money part.) I mean, not you, but this character who up till now seems to be singing all the songs? Is this an outside look at somebody we've been learning about from the inside? Or just a little character assassination tacked on at the end? In "I Don't Know Anymore," the singer's already confessed to a little ordinary madness. "I don't know right from wrong anymore," she says.
The days are long, the nights leave me tossed and torn
If not for you, I'd be lost like a child in a storm
I wake after midnight, running from dreams
Shine a light in the mirror
To show me who I am
After midnight is right. This is a cd unlikely to be played at barbeques, bar mitzvahs, and baseball games. This is a 3 a.m. cd, when music feels more necessary. When you're lonely in the dark.
Dulcie Taylor's home page is at https://www.dulcietaylor.com/homepage.html.
Since I wrote this, she's told me the woman in "Never Enough" is a third party.
-Reid Mitchell