Dirty Linen, October/November '02, #102
DULCIE TAYLOR
"Diamond & Glass"
Black Iris Records
by Kerry Dexter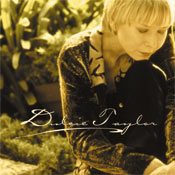 The deep south is a varied as the turn of a kaleidoscope, in landscape, in people, in accents, in food, and in music. South Carolina native Dulcie Taylor gets at all that in several ways on her album Mirrors & Windows. She offers songs with elements of blues, folk, r&b, and rock, and makes it all work well. The subjects are conversational and thought provoking. Especially check out one of the folk tinged stories, Blackberry Winter, a fine marriage of melody and lyric.
Dulcie Taylor is a gifted writer, taking small moments of life and weaving thoughtful original commentary from them. Her lyrics are more abstract than rooted in place or geography, but nonetheless powerful:
 "love can cut like a diamond
  love can shatter like glass"

she sings in the title cut. The WAMMIE award winner and Chris Austin Songwriting Contest finalist attributes her perceptive lyrical skill to growing up in small town South Carolina. "You're in people's faces a lot," she explained. "That makes you look at the human situation much more closely." Taylor has a compelling voice which she employs with nuance and emotion on the heartbreaker "Easy For You ", the bluesy "I Don't Know Anymore ", and the folk ballad "Cherokee." She's an accomplished guitarist and dulcimer player, as well. Diamond & Glass is a polished and reflective collection from a distinctive singer.