Dulcie Taylor delivers an emotionally affecting new album
BY GLEN STARKEY
New Times SLO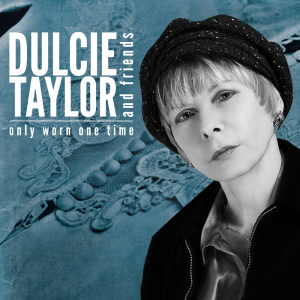 When Dulcie Taylor speaks, there's no hiding her South Carolina roots, reflected in both her drawling accent and her unrelenting southern charm. After establishing her singer-songwriter bonafides in the Washington D.C. area, she moved to SLO County a couple years ago and wasted no time immersing herself in our own local music scene, even while her previous three albums were enjoying radio play nationwide.
Last year she entered and won the New Times Music Awards "Best Songwriter" category and won with "Cigarette Smoke." This year, she's released her fourth album, Only Worn One Time, and it's a stunner—11 tracks recorded locally at the Colorado Room in Atascadero and produced by George Nauful and Tyson Leonard, mixed by Keith Olsen, and released on Mesa/Bluemoon Records.
The songs, like the artist behind them, are earnest, thoughtful, emotive, and engaging, each one weaving a story filled with the sort of Southern tropes employed by the likes of Eudora Welty, Flannery O'Connor, and Kate Chopin. Taylor's literary gifts are undeniable, and the South's history and culture seem to permeate everything about Taylor.
"I think [my upbringing] has everything to do about everything about me," she said during a recent phone interview. "I was raised a real southern Baptist. I'm still a Christian, but I hate to use the word. People think they own Jesus—ugly people, not accepting of others. I was raised by a single mother, and we lived in a small town. Everybody knew everybody. I sang in the church."
It's hard not to be smitten by Taylor's forthrightness, but add in her way with a story and you're hooked. She began our interview by comparing her lack of computer skills to a novice horse rider who gets on a horse that immediately senses her lack of skills: "'Oh, I'm going to have fun with you,' that horse thinks. I think when I touch a computer, it has the same thought."
Even though Taylor is an old fashioned Southern belle, she's living in a modern world, and one must keep up. The computer allows her to track her new album's play on stations such as KOPN in Missouri and KGLP in New Mexico, as well as read some of the early online reviews, one she describes as so laudatory she wonders if her publicist wrote it.
"You know, you work real hard on this stuff and hope it goes well," she said. "I do think [the new album] is the best one yet. You keep hoping they get better."
She's certainly surrounded herself with talented performers, and she's very generous in her praised of them. In fact, her new album is by "Dulcie Taylor and Friends," and sure enough, she has two of her friends taking lead vocals on four tracks they wrote: Tony Recupido wrote and performed lead vocals on "Lost On Some Sea" and "Love Let Go," and George Nauful wrote and performed lead vocals on "Anna Marie" and "America in a Day."
"They've always sung on my records," Taylor said. "I love Tony's voice and George's voice, and it's made me very happy to have them with me. I love what they do and love singing backup behind them."
Taylor and her husband also love the Central Coast. She'd stayed here alone for five weeks to record an album, and she encouraged him to relocate here.
"I told my husband, 'There's no way to tell you how gorgeous it is north of Santa Barbara.' We packed everything up and we're just deliciously happy to be here. We went to the DMV, and if you've even been to the DMV in Virginia or L.A.—well, it's not your best time. But we went to the DMV here, and I couldn't believe just how nice people are. Why, it was like buying an ice cream cone!"
See, charming! She can charm a DMV worker into being nice!
It's also interesting to hear Taylor describe how her songs evolve. Take the title track, "Only Worn One Time," for instance.
"[It] started out as a song about my sister's wedding dress," Taylor explained. "We lost her when she was quite young and I just couldn't bear to part with her wedding dress. I carried it from house to house for several years. Then one day I realized someone else could really use this beautiful dress and wouldn't that be a lovely thing to do with it. I started writing the song about her and her dress, but then I just started writing it from the viewpoint of a man who finds his departed ex-wife's wedding dress back on a high shelf in a closet. You can imagine how he would feel if she only left that one thing behind.
"I've had friends who have done that—left and taken everything, took the ice cube trays out of the freezer. So the man wonders, 'Does she know she's left? Did she mean to do this to me?' I did drag that thing around, and it was a tiny little dress. She wasn't even five feet tall. She said she was, but she wasn't. I needed to find a way for the song to have meaning to others. It needs to make sense, not just to me, so I changed the point of view to a man who'd been left behind. It's all about making an impact. I'm not a poet who only writes for other poets. I don't want people to listen to my songs and think, 'What they hell is she talking about?'"
It's no wonder Taylor was able to coax so many talented performers to join her on the recording. Percussionist Scott Breadman has played and toured with acts like Jose Feliciano, Macy Gray, Lindsey Buckingham, and Paul Simon, to name a few. Guitarist Tim Pierce has recorded on literally hundreds of sessions, including Bruce Springsteen, Bon Jovi, Patty Smith, Michael Jackson, Eric Clapton, Christine Aguilera, and Madonna. The rhythm section is in Jeff Bridges' band.
"We have such gifted players on these tracks," Taylor said. "George Nauful has such a feel for what supports and propels a song, and it's always something unique. I can hear his playing and know he's the one holding the guitar. The same with Tony Recupido. He plays jaw-dropping guitar, hand him a flatpick and backup. Tyson Leonard—not only can he work the board with the best of them, he plays gorgeous violin/fiddle, parts that become a piece of the song as soon as he lays it down. Tim Pierce—he cranks up that Tele and there's never a guitar noise anywhere that he doesn't mean for it to be there—fluid, melodic, unmistakable. Tom Lackner on drums—tight, tough, and easy when it needs to be. Randy Tico on bass—the bass becomes a beautiful voice. Scott Breadman—we always call Scott for percussion; he knows what to play and does it with such feeling and finesse."
Since the album came out earlier this month, Taylor's been playing regularly, and she's got a bunch of upcoming gigs. She'll play an in-store at Boo Boo Records in SLO on Friday, July 18, at 5:30 p.m. She plays Ragged Point Inn in Big Sur on Saturday, July 19. She'll be back in SLO at Luna Red on Sunday, July 20, from 3 to 5 p.m. On Friday, Aug. 1, catch her in Morro Bay at Windows on the Water, then she'll be back at Ragged Point Inn on Sunday, Aug. 3, and down in Nipomo at Willow on Sunday, Aug. 17. You can keep up with new shows on her website, dulcietaylor.com.