BY JOE PAYNE
Santa Maria Sun
August 13th, 2014, in the Santa Maria Sun – Volume 15, Issue 23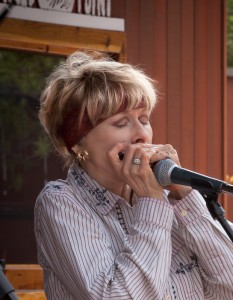 Making new music that sounds familiar and comfortable to listeners is a difficult task, but South Carolina-born singer-songwriter Dulcie Taylor meets the challenge with a calm reserve. After just one listen of Taylor's newest album, it's obvious that Taylor has
friends who can play multiple instruments and write songs as well as the seasoned, country-influenced Taylor can. Only Worn One Time, recorded with Mesa/Bluemoon Recordings in Paso Robles, doesn't list Taylor as the sole artist, but credits Dulcie Taylor and Friends.
Taylor penned most of the songs on the new album, collaborating with George Williams or George Nauful on several. Nauful co-produced the album with Tyson Leonard, who fiddles and drums on several tracks. Guitarist, singer, and songwriter Tony Recupido also contributes to a few of the titles. The result of all these musicians coming together is an album bursting with a supremely skilled energy. Taylor's Southern-tinged voice is the true lead of the album, with every instrument rendering warm support. She offers heartfelt songs
like "On A Rainy Day," which uses the familiar theme of drought as a metaphor for holding back heartache, and driving rock country romps like "Dug a Hole," which includes ripping electric guitar by Tim Pierce.
The album was mixed by none other than Keith Olsen—who has worked with the likes of Fleetwood Mac, Ozzie Osbourne, Pat Benatar, and Carlos Santana—and is perfectly balanced, especially considering the number of musicians recorded on each song. Multiple percussion tracks, several guitars, and even added bass or keyboards all blend together into one sound, an unmistakable bedrock on which Taylor can dance. Mesa/Bluemoon Recordings and Dulcie Taylor have a productive history. The label has cut three previous albums of hers, and each made radio and online charts.
A portion of the new album's sales will be donated to Brides Against Breast Cancer in honor of Taylor's sister, who was the inspiration for the title track, "Only Worn One Time." Taylor is currently on a small tour within San Luis Obispo County performing tracks from Only Worn One Time, which is available on iTunes, Amazon.com, and through her website dulcietaylor.com.