High Notes Reviews
Dulcie Taylor, "Wind Over Stone"
Nov. 10, 2015
www.highnotes.reviews
It's rare I cover an artist with two new releases. The first album, Only Worn One Time, represented a gift for words as the lyrics stood out as a superlative for poetry and storytelling. There was something special as the music mixed picture-perfect with her lyrics. The artist is Dulcie Taylor. Her newest album, Wind Over Stone, continues in that tradition. In trying to think of the word that best describes Wind Over Stone, the word escapes me.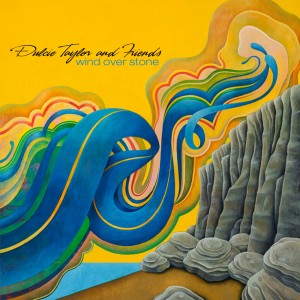 As Dulcie opens with "Not Here, Not Today," It's a song of reverence that goes from tragedies to victories. The piece is a fine example of Americans and the hidden strength we have within us.
As Dulcie shifts into other tracks, one piece that gets my attention is "When the Cherokee Roamed." As Dulcie sings of what we had and lost, could not help but think what our society has lost as we play with our "toys."
Dulcie wrote most of the songs on Wind Over Stone. But there is one cover, a Supremes hit, "My World is Empty without You." She gives the piece a folk/country twist that fits tip-top.
But "Prayers" is a special number. Dulcie gives us exemplary pictures of life as mom listens to her "Prayers." Again, I'm searching for that one word.
Dulcie closes with "Love like Yours and Mine." She is a beautiful sentimentalist with her poetry. "When I'm old darling and dreaming back through time, I'll still thank God for giving me a love like yours and mine."
Wind Over Stone is a folk/country storybook. The duets she does with George Nauful and Tony Recupido are well done. As I listen to her album, it creates a sense of hope. It brings comfort even as you listen to the rocky times. As I continued my search for the best word to describe this album, magnanimity found me. Magnanimity sums up Dulcie's album as it distributes love and honor intermittently throughout the album. I'm JR Miller with High Note Reviews, and this is Dulcie Taylor taking Wind Over Stone.