FolkWax Sittin' In With Dulcie Taylor
The Mirrors and Windows Interview
By Kerry Dexter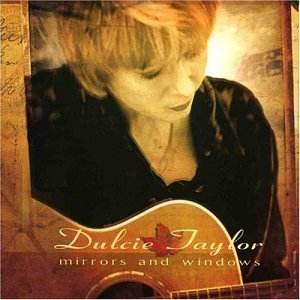 Dulcie Taylor often jokes that the person who had the greatest influence on her music wasn't a musician at all. "It was the ten-year-old boy who wandered up on the porch where we were staying at the beach and sat on my ukulele and smashed it," she recalled with a chuckle. Dulcie, ten years old herself at the time, was crushed. Her spirits revived when, at Christmas time, her mother gave her a guitar.
Taylor spent her early years in small town South Carolina. You can still hear the south in her accent and in her voice as a musician. "I think it totally influences that. I think my music would not be what it is had I not been born and raised there. I think it is totally who I am as a person, in music and everything else. Growing up in a place where you have friends whose parents are friends with your parents, their grandparents were friends with your grandparents…the threads go back so far," she said.
Taylor mines that circumstance for musical and lyrical inspiration, but in her case it's focused on the intimacy and emotion of relationships rather than historical narrative. "Blackberry Winter," a cut on her latest release Mirrors and Windows, frames the uncertainty of emotional challenges with the images of changing weather in a southern spring, while "Miracle" offers comments on hope and connection which begin in the noisy atmosphere of a workaday bar.
"The things that matter to me, I think, come from having been raised in a real small community and seeing the same people day in and day out and caring about their stories. I would think most southern musicians would say something similar," Taylor reflected. "It infuses everything you think," she continued, pointing up a love for language and literature that perhaps began with reading the Bible during her Southern Baptist childhood. "I was brought up strictly in the church, reading the Bible, and I think that influences who you are, regardless of how you look at things when you get older," she said.
Music has been a constant in Taylor's life, and that's included listening to a variety of styles from her childhood up until now. "Mother adored Elvis, but then she really liked Frank and Ella, too," Taylor recalled. "I had an older sister who was into the Beatles and Dylan, and a cousin who was into Broadway show tunes. There was just so much stuff around." These days, she relishes listening to the I Pod her guitar player received as a holiday gift. "Ooh, what a wonderful thing!" she exclaimed. "It's like the best radio station in the world: we have Gladys Knight, and there'll be a Dylan tune, and then Johnny Cash, and then something by The Blur! It's just wonderful — I should write his parents a thank you note for giving it to him," she said, laughing.
That strong foundation in hearing different styles and restless curiosity to hear more shows up in Taylor's own work. "My first record [Diamond & Glass, which won a Washington Area Music Award for Best Folk Album] had a bit more of a Jazz leaning, I think, especially some of the players I chose. But this one, I think it's solidly in the Americana camp, it's Roots / Pop/ Alt Country," she said. That Roots Rock, along with a strong sense of the south, comes through especially on the cut "Seaboard Train," while "Ice Melts" is "stone Country, just pure Country," Taylor said. "Other Side of the Bed" could work as a Pop ballad, while the "Woman I Used to Be" adds a touch of Blues. Taylor's got a gift for melody as well as lyric, and an ability to match her vocal style to the atmosphere of her lyric that make the songs, different as they are, seem like seeing different aspects of that small town community around each corner — related, somehow, but a new aspect revealed at each turn.
Taylor explains that her songs come to her in varied ways. "Sometimes it'll be an idea, and out of that will come maybe one line, sometimes it'll be a line in the verse, sometimes it'll be in the chorus, and work out from there, or sometimes I'll go backwards and get the end first," she said. Taylor plays guitar, dulcimer, and harmonica. "Sometimes a song will come from playing one of the instruments, there'll be a musical riff that'll suggest a line of lyrics," she continued. "I'm not generally one of those people who sits down and writes out lyrics and then puts them to music. It comes at the same time for me."
Taylor also writes poetry and prose, though lately she's been mainly concentrating on music. She left South Carolina for Los Angeles and lived on the west coast for some time until her husband's job brought her back to the south, northern Virginia where she's now based. "Based" is the right word, at least for now, as Taylor is touring quite a bit behind Mirrors and Windows, sometimes headlining and sometimes opening for artists such as Steve Forbert, Stacey Earle, and Mark Stuart. "I enjoy being an opening act," Taylor said. "I can headline some places, but I'm not to the point where I can fill the bigger clubs and the only way to do that is to build your audience. I think if people like people like Mark and Stacey, or Steve, they'll like my music –it's similar, but enough different that it's a change."
Kerry Dexter is a senior contributing editor at FolkWax. Kerry may be contacted at folkwax@visnat.com