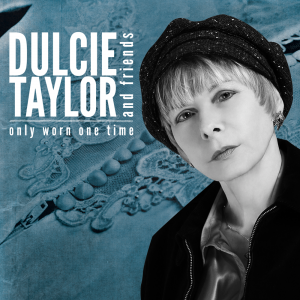 Dulcie Taylor – Only Worn One Time
*** (out of 4 stars)
Label: Mesa/Bluemoon Records
by Greg Victor for parkbench.com
Singer-songwriter Dulcie Taylor creates unforgettable atmospheres with her music. She brings life to characters and let's us in on their points of view. It is storytelling at its most enthralling. Her new album, Only Worn One Time, is full of hypnotic songs that pull you in with every perfectly chosen lyric.
This is an album that you'll return to time and again, falling in love with the way it just plain makes you feel. It's an abundance of heartfelt realizations, set to just the right grooves.
Only Worn One Time is a collection of 11 tracks produced by George Nauful and Tyson Leonard, and mixed by Keith Olsen. Taylor is supported by a stellar group of talented musicians, including Timo Beckwith, Scott Breadman, Dom Camardella, Bill Flores, Tom Lackner, Tyson Leonard, George Nauful, Tim Pierce, Tony Recupido, Randy Tico, Cam West. They are an impressive group, to be sure, and their contributions are heard, not so much by standing out, but by making a fluid cohesive experience.
She has a voice that is deceptively easy-going; there's clearly more power in the instrument than she finds necessary to use. But when she needs to make a forceful impression, she lets loose with a strength that matches her emotion.
There's also a timeless quality to her delivery — an approach to the material that speaks of trust in the material that is rare. But then again, why wouldn't she? She knows how good the songs are. If you are looking for alluring songs that draw you in with their magnetic musical truisms, Only Worn One Time is an album you just might wear out.
Essential Downloads: "Take a Chance," "Can't Even Pray," "Dug a Hole." Find them here Amazon or iTunes